The DJI Agras MG-1 is an octocopter designed for precision variable rate application of liquid pesticides, fertilizers and herbicides, bringing new levels of efficiency and manageability to the agricultural sector.
MAXIMUM EFFICIENCY
The powerful propulsion system enables the MG-1 to carry up to 10kg of liquid payloads, including pesticide and fertilizer. The combination of speed and power means that an area of 4,000-6,000 m² can be covered in just 10 minutes, or 40 to 60 times faster than manual spraying operations. The intelligent spraying system automatically adjusts its spray according to the flying speed so that an even spray is always applied. This way, the amount of pesticide or fertilizer is precisely regulated to avoid pollution and economize operations.
7-10Acres / Hour
10kgPayload
40-­60 times faster than manual spraying
LIQUID TANK
RELIABILITY AND LONGEVITY
Equipment used in plant protection operations is susceptible to dust and corrosion, leading to high cost of maintenance and shortened lifespans. To counteract degradation, the MG-1 is designed with a sealed body and an efficient, integrated centrifugal cooling system. As it flies, the surrounding air enters the aircraft body via the front inlet, equipped with a triple filter system that keeps dust and particulate matter from entering. The air then passes through each of the aircraft's arms to the motors, capturing heat from all components and the entire structure before exiting and dissipating the heat to the surrounding air. The combination of cooling and filtering increases the expected lifespan of each motor by up to three times.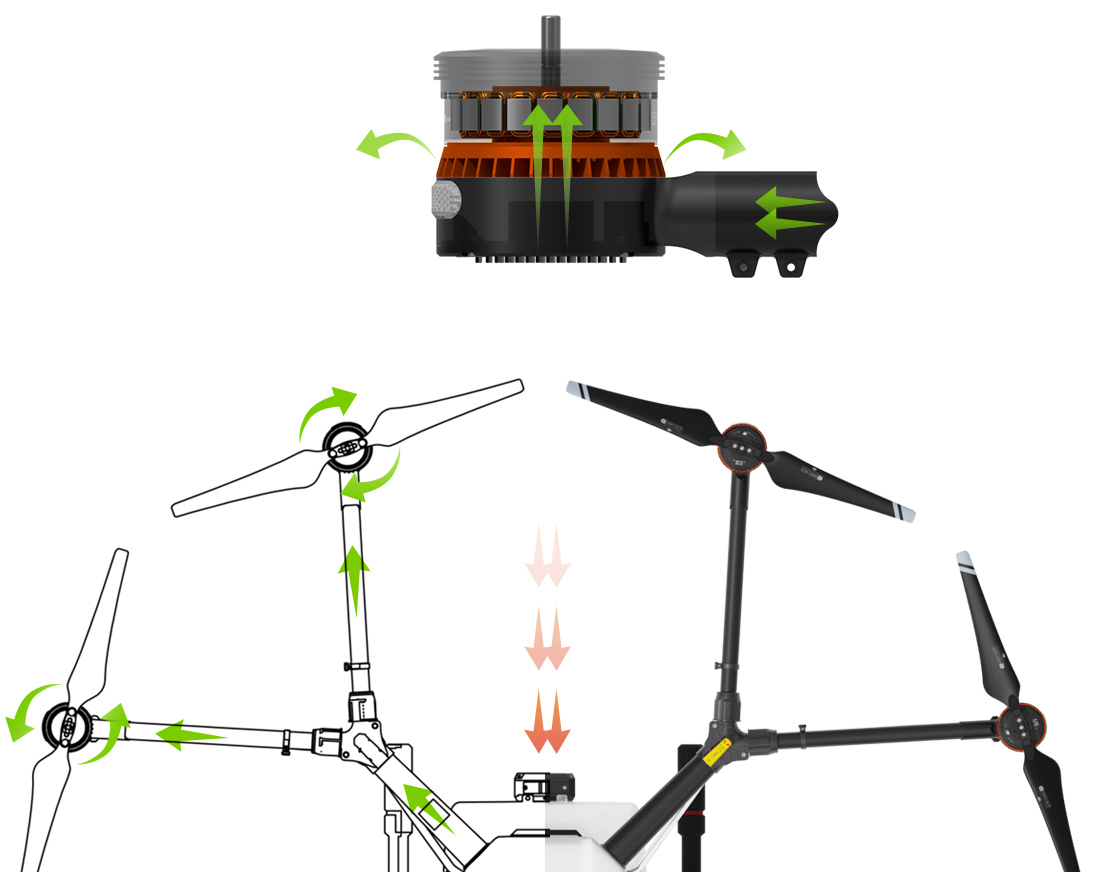 ACCURATE SPRAYING
Spray nozzles can be chosen according to the properties of each liquid to optimize atomization, energy efficiency and the amount of liquid sprayed. The included ceramic nozzle is resistant to wear and can be used for thousands of hours of effective spraying without degradation. In total, the MG-1 has four nozzles, each placed directly below a motor. The downward airflow generated by the propellers accelerates the spray, increasing its reach.
Interchangeable Nozzle Atomized Spraying All round Spraying
EASE OF USE
The advanced flight controller integrated with the aircraft instantly and precisely responds to the pilot's input. Choose between three flight modes: Smart mode, Assisted mode and Manual mode, according to terrain and the specific needs of each mission.
Under Smart mode, the flight can be easily planned with the press of a few buttons, without the need for mapping knowledge or other software, making the MG-1 not only the most efficient but also the most easy to use spraying solution. In Assisted mode, the aircraft performs the same turns at the press of a button as it does automatically under the Smart mode, allowing for planning to be done on the fly for fields of irregular shape. Under Manual mode, the pilot freely navigates the aircraft.
INTELLIGENT MEMORY
The MG-1 automatically records its current and remembers its past coordinates as it makes its way across the field. In case the operation is interrupted, for example due to depleted battery or spraying liquid, flight easily be resumed from the last point in its memory after changing the battery or refilling its tank.
Low Volume Warning
Flight Task Resume
System Data Memory
FOLDABLE DESIGN
The MG-1 design is based on a Y-type folding structure that can be installed without the use of any additional tools. Motor arms fold inwards making the aircraft compact and easy to transport, for example in the trunk of a car. Made from high-strength carbon fiber materials, the body frame is light yet durable and able to withstand the harshest conditions.
TERRAIN FOLLOW
By integrating a microwave radar together with the MG-1's intelligent flight control system, the aircraft is able to scan the below terrain in real-time, and adjust to keep a constant, centimeter accurate, height above crops. Spray density is maintained even as the terrain rises and drops, so that the optimal amount of liquid is applied at all times.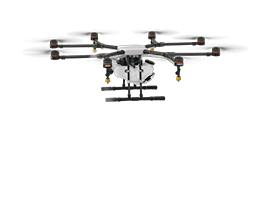 DEDICATED REMOTE CONTROLLER
The dedicated remote controller is equipped with the latest Lightbridge 2 transmission system which enables ultra low-latency controls. Like the aircraft body, the remote is designed with water and dust protection. A special low-energy display panel gives real-time flight information and is able to last over extended periods of time on a single charge. Together with the highly responsive joysticks and convenient function keys, mastering the art of agricultural spraying is made easier than ever before.
The DJI Agras MG-1 is dustproof, water-resistant and made of anti-corrosive materials. It can be rinsed clean and folded up for easy transport and storage after use.
The eight-rotor Agras can load more than 10 kilograms of liquid for crop-spraying and can cover between seven and 10 acres per hour. It is over 40 times more-efficient than manual spraying. The drone can fly up to eight meters per second and adjusts spraying intensity to flying speed, ensuring even coverage.
"The launch of DJI's agricultural drone displays our unmatched knowledge base and development skills," said DJI CEO and founder Frank Wang. "With this new product, we've shown that DJI can not only offer the ultimate aerial experience for the mass consumer, but also improve the efficiency of production and benefit so many others in all walks of life.
The Agras features DJI's industry-leading flight-control system and microwave radar to ensure centimeter-level accuracy. During flight, the drone scans the terrain below in real-time, automatically maintaining its height and distance from plants to ensure application of an optimal amount of liquid. DJI's real-time Lightbridge 2 transmission system is also onboard.
Users can select automatic, semi-automatic or manual operation modes, depending on terrain, with uniform spraying carried out via the drone's nozzles. The drone has four replaceable, ceramic nozzles, each powered by a motor. The included nozzles can be used for thousands of hours of spraying. Downward airflow generated by the rotors increases spraying velocity and ensures the agent will reach plant stems and leaves near the soil.
The Agras MG-1's body is sealed, and features an integrated centrifugal cooling system designed to extend motor life by up to three times. Triple-filtration cuts off intake of mist, dust and large particulates to reduce wear from impurities. As the drone flies, air enters the aircraft body via the front inlet, is filtered and passes through each of the aircraft's arms to the motors, capturing heat from all components and the entire structure. Heat is then dissipated by venting into the surrounding air.
The drone's intelligent memory function means after the Agras MG-1 is brought back to base for refill or recharge, it will return to its last memory point to pick up spraying where it left off.
Users control the Agras with a custom DJI remote. Its low-energy display panel gives real-time flight information and lasts for extended periods on a single charge.
Product Specifications
AIRCRAFT FRAME
Diagonal Wheelbase 1520 mm
Frame Arm Length 625 mm
Dimensions
1471mm x 1471mm x 482mm (arm unfolded, without propellers)
780mm x 780mm x 482mm (arm folded)
PROPULSION SYSTEM
MOTOR
Stator Size 60mm x 10 mm
KV 130 rpm/V
Max Thrust 5.1 kg/rotor
Max Power 770 W
Weight (with cooling fan) 280 g
ESC
Max Allowable Current (Continuous) 25 A
Operating Voltage 12S LiPo
Signal Frequency 30 to 450 Hz
Drive PWM Frequency 12 kHz
FOLDABLE PROPELLER
Material High-performance engineered plastics
Diameter / Pitch 21×7.0 inch (533×178 mm)
Weight 58 g
SPRAY SYSTEM
LIQUID TANK
Volume 10 L
Standard Operating Payload 10 kg
Max Battery Size 151mm x 195mm x 70mm
NOZZLE
Model XR11001
Quantity 4
Max Spray Speed 0.43 L/min (per nozzle, for water)
Spray Width 4 – 6 m (4 nozzles, 1.5 – 3 m above the crops)
Droplet Size* XR11001: 130~250 μm
*Droplet size may vary according to operation environment and spraying speed.
FLIGHT PARAMETERS
FEATURES
Total Weight (without batteries) 8.8 kg
Standard Takeoff Weight 22.5 kg
Max Takeoff Weight 24.5 kg (@ sea level)
Max Thrust-Weight Ratio 1.81 (with 22.5 kg takeoff weight)
Power Battery DJI Designated Battery (MG-12000)
Max Power Consumption 6400 W
Hovering Power Consumption 3250 W (with 22.5 kg takeoff weight)
Hovering Time
24 min (@ with 12.5 kg takeoff weight)
10 min (@ with 22.5 kg takeoff weight)
Max Operating Speed 8 m/s
Max Flying Speed 22 m/s
Recommended Operating Temperature 0 to 40℃
REMOTE CONTROLLER
FEATURES
Model GL658C
Operating Frequency 2.400 – 2.483 GHz
Max Transmission Range (unobstructed, free of interference) 1km
EIRP 100 mW @ 2.4 GHz
Built-in Battery 6000 mAh, 2S LiPo
Charging DJI charger
Output Power 9 W
Operating Temperature Range -10 to 40℃
Storage Temperature Range
Less than 3 months: -20 to 45℃
More than 3 months: 22 to 28℃
Charge Temperature Range 0 to 40℃
REMOTE CONTROLLER CHARGER
FEATURES
Model A14-057N1A
Voltage 17.4 V
Rated Power 57 W